ABOUT THE WORKSHOPS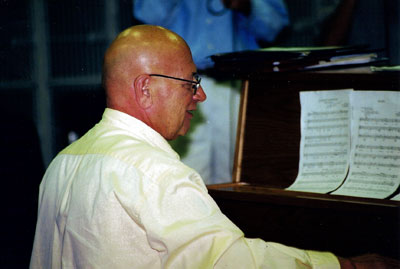 The Phil Mattson Workshop is presented to address the musical and philosophical concerns of high school and college teachers, students and professional singers. The workshop is extremely intensive, requiring personal involvement from each participant. All participants are placed in classes and seminars appropriate to their level of musical understanding.
Reasonably priced dorm rooms are available on campus. Participants wishing to reduce housing cost by sharing a dorm room will be assisted.
Undergraduate, Graduate and Continuing Education credit is available.
Registrations are accepted on a first-come, first-served basis, on the following conditions:
Workshop enrollment is limited to 30 participants.
Music to be studied in depth at the workshop, both ensemble and solo, will be sent to each participant well in advance. This allows for preparation on the part of all participants and makes possible a higher level-artistic experience for everyone.
A limited number of teachers will be able to conduct the ensemble in rehearsals and receive help in rehearsal technique. Please check the box on the enrollment reservation to indicate your interest.
To register, send a $195 deposit, or use the PayPal option, with the registration form to the coordinator of the workshop. Deposits are refundable up to 20 days before the workshop begins.
All registrations will be acknowledged upon receipt.